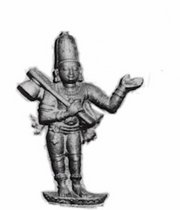 Tallapaka Annamacharya (1424-1503)
Padakavita pitamaha Annamacharya was born in 1424 in the village of Tallapaka in Andhra Pradesh. As the legend goes, Annamayya, at the age of 16, had a vision of Lord Venkateswara which prompted him to write about 32,000 kirtanas and padams in praise of Lord Venkateswara and his consort Alamelu Manga. He composed devotional padams, keertanas, folk songs, etc. in pure Telugu and Sanskrit.
Many of his songs are not available now. A good number of songs lived from generations on the tongues of devotees. Due to the untiring efforts of researchers like Sri Veturi Prabhakara Sastri, Sri Rallapalli Ananta Krishna Sarma, and other scholars, a good number of songs were deciphered from the copper plates under the auspices of Tirumala Tirupati Devasthanam. Many lyricists are now setting notation to the compositions because the copper plates only mentioned the ragas of songs. The immense popularity of these immortal songs is due to their spiritual strength.